About CEP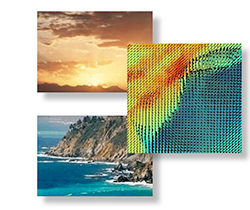 Environmental problems affect people, societies, and ecosystems around the world, and their impact will likely only increase over time. Solutions to these problems will cut across disciplinary lines, both within academia and science, and among science, government, industry, and the public. The actions of people and the decisions we make now -- to modify the land surface, to alter the atmosphere -- have repercussions for the present and future. Understanding the underlying scientific complexities of environmental issues and predicting outcomes is a critical need.
Within the larger realm of environmental problems, a key area is the study of climate change and its potential impacts. At the Center for Environmental Prediction (CEP), based within the Department of Environmental Sciences at School of Environmental and Biological Sciences, the talents of faculty, staff, and students from several departments coalesce to form a focus for climate-related research and education at Rutgers University. A multi-disciplinary team like ours acts as a catalyst, providing an organizing principle through which the ideas necessary for scientific progress can develop, and it serves as a central point from which these ideas can be disseminated. We believe that our team is a crucial link in the process of solving the problems that face natural systems and human societies experiencing (now or in the near future) rapidly changing climate and environmental conditions.
CEP's mission:
To facilitate close interaction among Rutgers researchers in atmospheric, oceanic, earth, and environmental sciences and to raise the visibility of this research throughout the scientific community and with the general public;
To participate actively in undergraduate and graduate education at Rutgers, with emphases on promoting links between the atmospheric, oceanic, earth, and environmental sciences curricula and on providing enhanced student research and travel opportunities;
In recognition of our responsibility to the state of New Jersey, to provide weather and climate data and advice to its citizens and to study the impacts of climate, environmental, and land-use change on its stakeholders -- visit the Office of the New Jersey State Climatologist (ONJSC), located within CEP, to learn more;
To communicate these scientific findings and impact scenarios to policy makers and expert groups, with the goal of working toward solutions for the issues we all face together.